Martin County Board of County Commissioners and Administrator Emails
Martin County Commission and Administrator emails are displayed as part of the County's commitment to communications transparency and as a service to citizens.
All email sent to and from Martin County Government is subject to the public record laws of the State of Florida.
Click here to view County Commission and Administrator Emails
Format Overview
Select one of the folders as shown below:

After selecting County Commission or County Administrator Emails by default message are arranged by date with the newest message at the top. To re-sort message click on the column heading.
Date:
Sort messages by the date (and time) they were received
From:
Sort messages alphabetically by sender
To:
Sort messages alphabetically by recipient
Subject:
Sort messages alphabetically by subject line
To search for emails enter the search term in the search box. There is also an option to filter by messages that include attachments.

A couple of additional features are available under the "More" option.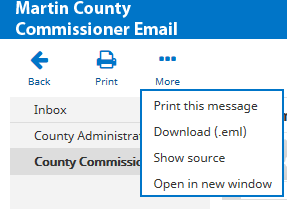 Sample of email display:

From a mobile device the view is a little different.
Select the folder icon: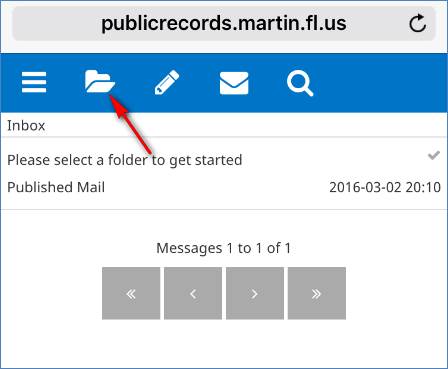 Then select the County Commission or County Administrator folder: